20% off • Free Shipping
Customer Reviews
09/23/2021
I recommend this product
Small Wonder
I think the crafting of the bag and design are lovely; however I having cut to the barest essentials find it is too small for daily practical use. It is one inch too shallow and one inch too narrow in the base for my use.
Martha A.

San Antonio, Texas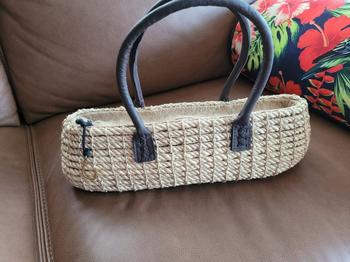 09/22/2021
I recommend this product
Awesome purse
When I spotted this purse I knew it would be the one! It has now become my everyday purse; perfect in size and fits my Island lifestyle. I even added a dangling fish hook as a zipper pull! Thank you I LOVE IT.
Maria W.

TAVERNIER, Florida
09/19/2021
I recommend this product
Adorable Purse!
I love my new purse! It's just plain pretty
Laura G.

Coto de Caza, California
09/19/2021
I recommend this product
Moses bag
Just received my bag and I love it! Pleasantly surprised at the great size ( I thought it might be too big ) and I love the feel of the weave , it's comfortable on my arm when I carry it across my shoulder . Worth every penny ! Clare
clare e.

Okatie, South Carolina
What Happy Ladies Say
"Absolutely Fabulous! I am in love with my handbag! Color is beautiful and it is so well made. Perfect size! And I can't say enough about the customer service. I will definitely recommend this product and and the company! Thank you!"
Laurie C.
Castle Rock, CO
HAPPY CUSTOMERS
Fast Priority Shipping
Guaranteed

2-3 business days
Easy & Fast Returns
100% Guaranteed
Back In Stock
Be the first to know about when bags are back in stock and sales by submitting your email! We respect your privacy.