50% off! Free Shipping
Customer Reviews
12/03/2021
I recommend this product
My third (!) purchase
Earlier this year I bought the bamboo color. Love it! Then I ordered the limited edition black one — should be arriving soon. Then I bought the sand-colored one a couple of weeks ago. The bags are both beautiful and functional. The straps are just long enough to go over my shoulder and then tuck the bag securely under my arm, leaving my hands free to do whatever. The lining is light colored, so the items are easily visible. I wish the pocket were an inch or so wider, but that is minor. Can't wait to get the black one!
James B.

Orlando, Florida
09/23/2021
I recommend this product
Small Wonder
I think the crafting of the bag and design are lovely; however I having cut to the barest essentials find it is too small for daily practical use. It is one inch too shallow and one inch too narrow in the base for my use.
Martha A.

San Antonio, Texas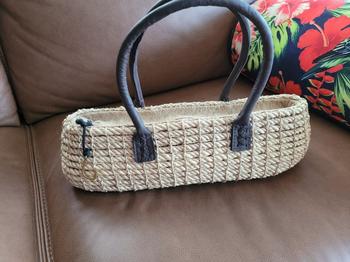 09/22/2021
I recommend this product
Awesome purse
When I spotted this purse I knew it would be the one! It has now become my everyday purse; perfect in size and fits my Island lifestyle. I even added a dangling fish hook as a zipper pull! Thank you I LOVE IT.
Maria W.

TAVERNIER, Florida
09/19/2021
I recommend this product
Adorable Purse!
I love my new purse! It's just plain pretty
Laura G.

Coto de Caza, California
What Happy Ladies Say
"I've been looking for the "perfect pocketbook" and so far this is the closest thing to perfect! I love the size. It holds all of my essentials. It's very well made. I love the sand color....goes with everything! I recommended it to my sister the day I got it and she placed an order for one that same day!"
Ruth D.
Florence, SC
SEE MORE REVIEWS
Fast Priority Shipping
Guaranteed
2-3 business days
100% Secure Payment
Guaranteed
Stay Updated
Be the first to know about our new arrivals, sales and promos by submitting your email! You can opt out at any time.